Join Us To Awaken Your Spirit...

An Immersion in Yogic Living

Kundalini Yoga Teacher Training

KRI Level 1 Certification

October 2010 through May 2011

Nine Weekends Over Eight Months

North County, San Diego

Course Location:

San Dieguito Masonic Center


1401 Windsor Rd.

Cardiff By The Sea, CA 92007

 w/Snatam Concert

Listen & order her music here:  spiritvoyage.com

"This training gives you the teachings that are the foundation
of my life and my music;  a complete practice to shine your light" Snatam   

click pic above or here for brochure

The Aquarian Teacher Textbook for Level 1: Table of Contents
Why Sign-Up For Kundalini Yoga Training - Benefits
Phone Numbers for Questions and to Register

Fax Number to fax Registration Form
Below are your Senior Teachers of this course who have almost 200 years of combined experience in the science of Kundalini Yoga and Meditation.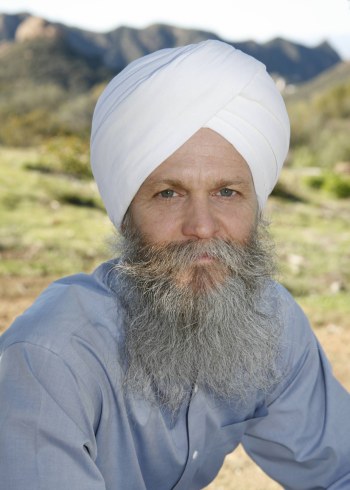 GurMeher Khalsa began studying under Yogi Bhajan in 1980, and has been teaching Kundalini yoga ever since. He is the Director of Teacher Training at Yoga West, Yogi Bhajan's original studio in Los Angeles. In addition, he travels to train teachers in Level 1 and 2 programs internationally and works with the Aquarian Academy to train the next generation of teacher trainers. As a professional Life Coach, he helps people identify and transform personal blocks to their happiness and fulfillment and as a public speaker introduces non-yogic audiences to body-mind-spirit training.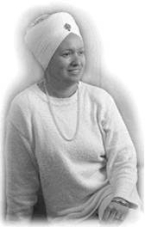 Atma K. Khalsa, KRI Certified, ERYT, KRI Teacher Trainer - Atma started practicing Kundalini Yoga and meditation in 1979 and trained with Yogi Ji since 1982. She has been teaching Kundalini Yoga for 20 years and has helped thousands of people find their excellence through the connection to their sacred self. She has been working in teacher training courses and has successfully developed trainee support programs. Her unique and innovative projects have proved to enhance the trainees experience contributing to healthy life style shifts and increased awareness.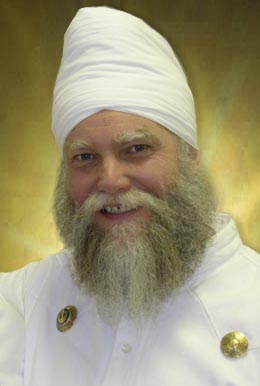 Hari Simran Singh Khalsa, D.C. AKA Dr. Yogi, has taught Kundalini yoga and meditation for over 25 years, directed Kundalini Yoga Teacher Training programs in Berkeley and Santa Rosa, CA and Phoenix, AZ and is an advisory board member of KRI. He has pioneered therapeutic applications of Kundalini yoga and meditation in clinical settings. He is a faculty member at Life Chiropractic College West and the International Holistic Institute. He is a healer utilizing Kundalini Yoga, Chiropractic and Sat Nam Rasayan in his clinical practice.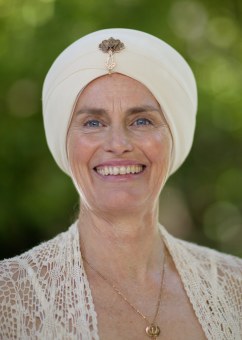 For over 38 years,
Gurutej
has been teaching people how to connect to their higher consciousness through yoga, chanting, meditation and healing. Her name means "the one who brings you from darkness into light at the speed of light."
In 1969 Gurutej met
Yogi Bhajan
. As one of his original students, Gurutej emerged as a founding practitioner of Kundalini. Through his instruction and spiritual guidance, Gurutej continues to serve thousands in her
Blessings Center in Los Angeles
and in training programs internationally.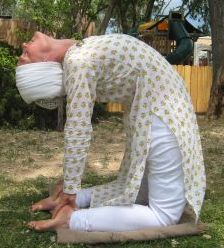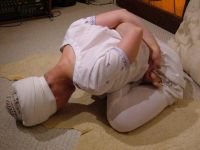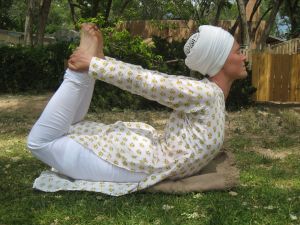 Simran Kaur Khalsa is the "Posture Master" Guru Prem Singh's wife of 18 years. She was one of the first born American Sikh's. Her parents are Sat Jivan Kaur & Singh, the Directors of Kundalini Yoga East in New York City.
She has been doing and teaching yoga her whole life. She spent 9 years going to school in India and now her daughter is there in her 5th year at Miri Piri Academy. For the past 10 years she has been part of Teacher Training's all over the world teaching the basics, fundamentals, postures and correct Alignment.  She and her husband are co-authors of an excellent book called Divine Alignment, which is designed to assist you in your correct alignment.
Simran teaches a 'Back to Basics' class at Yoga West in Los Angeles. She teaches a gentler class to allow people to begin to learn to sit with comfort, stand correctly, breath better and do an Asana practice with ease.
Divine Alignment begins with a Smart Navel, Open Heart, Empty Head and a slight hint of a smile in all that you do!
This allows for a challenging but smooth Yoga practice where the 'Fun'damentals are emphasized and the postures are built around the core (Navel point). This practice allows for people to progress quicker, without injury or strain, gaining strength, flexibility and a joy of the journey.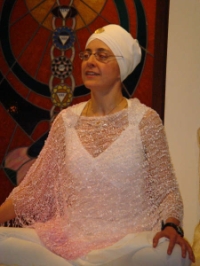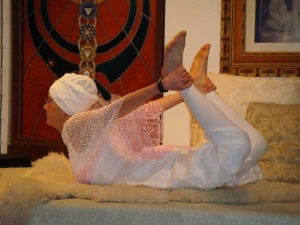 Guru Amrit Kaur Khalsa, KRI Certified, L1 & L2 Teacher, Associate Teacher Trainer. Her search for truth has been the story of her life. This deep longing to belong and need to give sense to her life brought her to a multiple search. She became a ballet dancer, singer, painter and has a Phd in Philosophy, she wrote three books, gave classes in different universities and was involved in politics, she wrote in the newspapers and magazines and participated in civil organizations. She married when she was 21 one years old and has 2 beautiful daughters that are now in their own search. In 1999 she began to do Yoga. The inexplicable experience that the incredible technique of Kundalini Yoga granted to me was so overwhelming that she knew, from the first time, that she was home. Truth was not outside, but rooted in the core of our own existence, love and consciousness. She directed with her second husband an Ashram for five years, became a teacher of Kundalini Yoga and a trainer. She is a Reiki Master and certified in EMF. She is studying Sat Nam Rasayan with Guru Dev and has finished the Level 2 KRI Training. As an associate trainer she has had the privilege to participate with a great team of teacher trainers like Guru Meher, Guru Dhan, Guru Singh, Guru Prem, Guru Dev, Shakti Parwa Kaur and others. She gave courses and therapies in Mexico and feels blessed to be able to live in the Dharma serving with all her heart so other people can have the tools to find their own superior self.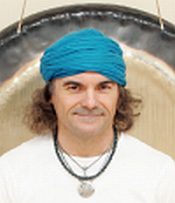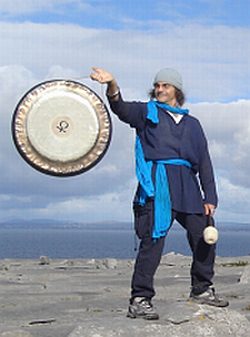 Sotantar-Salvador is the Gong Master. Sotantar has practiced and studied yoga, meditation and healing since his childhood in Spain. The Patanjali Sutras, the Hermes Kybalion and the words of Carlos Castaneda became important influences in his life. By his early twenties he moved to the United States where he continued his study in yoga and meditation. Later he found his connection with the Planet Gongs and he devoted himself to learning the ways of the Gong and Kundalini Yoga. He was privileged to meet and receive teachings from the Master of Kundalini Yoga, Yogi Bhajan, by whom he received his spiritual name to meditate on his life path and destiny - Sotantar - meaning beyond the boundaries of time and space and one who lives for the light. Sotantar is now a widely recognized Gong Master and Kundalini Yoga teacher in his home base of Los Angeles and Orange County, as well as in Europe. He has worked with and had the opportunity to learn from world-renowned Gong Master Don Conreaux. He is also a Reiki Master Teacher, Sound Therapist and Hypnotherapist. In addition to his regular classes, Sotantar brings his knowledge and energy of the Planet Gongs to workshops and retreats around the globe. He frequently visits Ireland, as he considers it home, and offers workshops throughout the country. Sotantar's commitment to bringing awareness, peace, balance and joy to the universal community led him to create the Planet Gong Peace Project Meditation which takes place monthly. The Planet Gongs' sacred sound creates a space for all the participants to experience joy and their true selves. The Gong's vibrations carry throughout the world the intentions to expand global awareness, raising the frequency of the planet to a higher level of peace. The Project has simultaneous meditations occurring in various places in the world: North America, South America, Europe and growing. His passion is teaching Kundalini Yoga and bringing the healing and transforming sounds of the Gong to the world. He enjoys giving Gong Baths and meditation and healing concerts to celebrate the peace, love and joy which is our natural state. He has recorded a series of CDs including the sacred sounds of the Planet Gongs and Tibetan Singing Bowls for meditation, awareness, and healing. For more information visit www.gongmaster.org
Course Brochure (Click here for a Course Brochure)
Course Registration Form (Click here for a Registration Form)
Weekend #1:  Oct. 30-31
White Tantric Yoga Nov. 13
Weekend #2:  Nov. 20-21
Weekend #3:  Dec. 11-12
2011
Weekend #4:  Jan 15-16
Weekend #5:  Feb 12-13
Weekend #6:  Mar 12-13
Weekend #7:  Apr. 2-3
White Tantric Yoga Apr. 16
Weekend #8  Apr. 30- May 1
Weekend #9  May 21-22
Graduation May 22
Hours: Saturdays - 7:30am to 7:30pm and Sundays - 4:30am to 5:30pm
Course Fee and Payment Choices:
Pay in full up-front $3,095 ($895 registration deposit; balance due 10/23)
Payment plan $3, 295 (see below)
Early registration discount of $100 with paid registration by September 25th
Payment plan:
Payment plan: $895 down ($795 if received before 9/25) plus 6 payments of $395 due the 10th of each month from November to April.  Automatic payment of $395 will occur on the 10th of each month unless other arrangements are made.  Late fee for monthly payments is $20 per month.  
Other requirements:
You will be responsible for attending and paying for: One White Tantric Yoga and 20 Kundalini Yoga classes
Full-time student rate available
Phone Numbers for Questions and to Register:
GuruMeher Singh 310-788-0339 or Atma Kaur at 951-696-9063 ext. 105
Email any Questions: gurumeher@earthlink.net or atmak@objectrad.com
To Fax in Registration Form: 951-240-3405 Fax
Moonlight Beach Motel (the closest to the beach and Stillpoint)
233 2nd Street
Encinitas
760 753 0623
The contact name is Chan
www.moonlightbeachmotel.com
 
They have one, two and three beds so lots of people can share here, they also have kitchenettes which is useful. Total of 24 rooms.
Luckily the winter rates will apply by October,  rates run from $75 up to $105
 
The Bed and Breakfast which is further back from the beach but still walkable is:
 
Inn at Moonlight Beach
105 N Vulcan Avenue
Encinitas
760 944 0318
Ann Dunham
 
The have four rooms, not big but OK, the rates are higher $130 +, they have one suite with hot tub, didn't get to see it though.
www.innatmoonlightbeach.com
 
The last one is a hotel, not fancy at all but does have a small pool.
 
Days Inn
133 Encinitas Blvd
Encinitas
760 944 0260
They are on the internet also.
For both the weekends in October a two bed will be $89 and a 1 bed $79 plus tax
http://www.daysinn.com/DaysInn/control/Booking/property_info?propertyId=11220&as_srp=SP2&cid=carat_search-Days_Inn
Cardiff by the Sea Lodge
A Luxury San Diego, CA  Bed and Breakfast Inn
142 Chesterfield, Cardiff-by-the-Sea, California  92007
760-944-6474