September 2017
Sun
Mon
Tue
Wed
Thu
Fri
Sat
1
2
3
4
5
6
7
8
9
10
11
12
13
14
15
16
17
18
19
20
21
22
23
24
25
26
27
28
29
30
October 2017
Sun
Mon
Tue
Wed
Thu
Fri
Sat
1
2
3
4
5
6
7
8
9
10
11
12
13
14
15
16
17
18
19
20
21
22
23
24
25
26
27
28
29
30
31
November 2017
Sun
Mon
Tue
Wed
Thu
Fri
Sat
1
2
3
4
5
6
7
8
9
10
11
12
13
14
15
16
17
18
19
20
21
22
23
24
25
26
27
28
29
30
December 2017
Sun
Mon
Tue
Wed
Thu
Fri
Sat
1
2
3
4
5
6
7
8
9
10
11
12
13
14
15
16
17
18
19
20
21
22
23
24
25
26
27
28
29
30
31
Develop strength, flexibility and calmness to release pain and resolve anxiety. First a few warm-ups and then experience a Kundalini Yoga set for strength integrating breathing techniques and meditation. End with a complete, deep relaxation layout. Enjoy soothing music from India during this yoga class. Enjoy Kundalini Yoga with the local community. Wear comfortable clothes so to move in easily. Beginners and all are welcome. Bring yoga mat. (pics below taken in another location by other source)
We welcome Sahai Prem Kaur to help teach our Friday morning class at Yoga Healing. Her name is Sahai Prem Kaur or Kristine Faust, she is KRI Certified. Sahai Prem Kaur's Bio:
Sahai Prem Kaur is committed to share her deep love and passion for continued self-growth to inspire others to empower themselves and shine their souls. Her biggest dream is to create a special sacred space where the beauty of nature, music, books, healthy food, animals, yoga and meditation can all come together in a sweet alchemy to serve as a catalyst for the rejuvenation and transformation of souls. Kundalini Yoga has transformed her life on every level and she considers it a gift to be able to share it with others.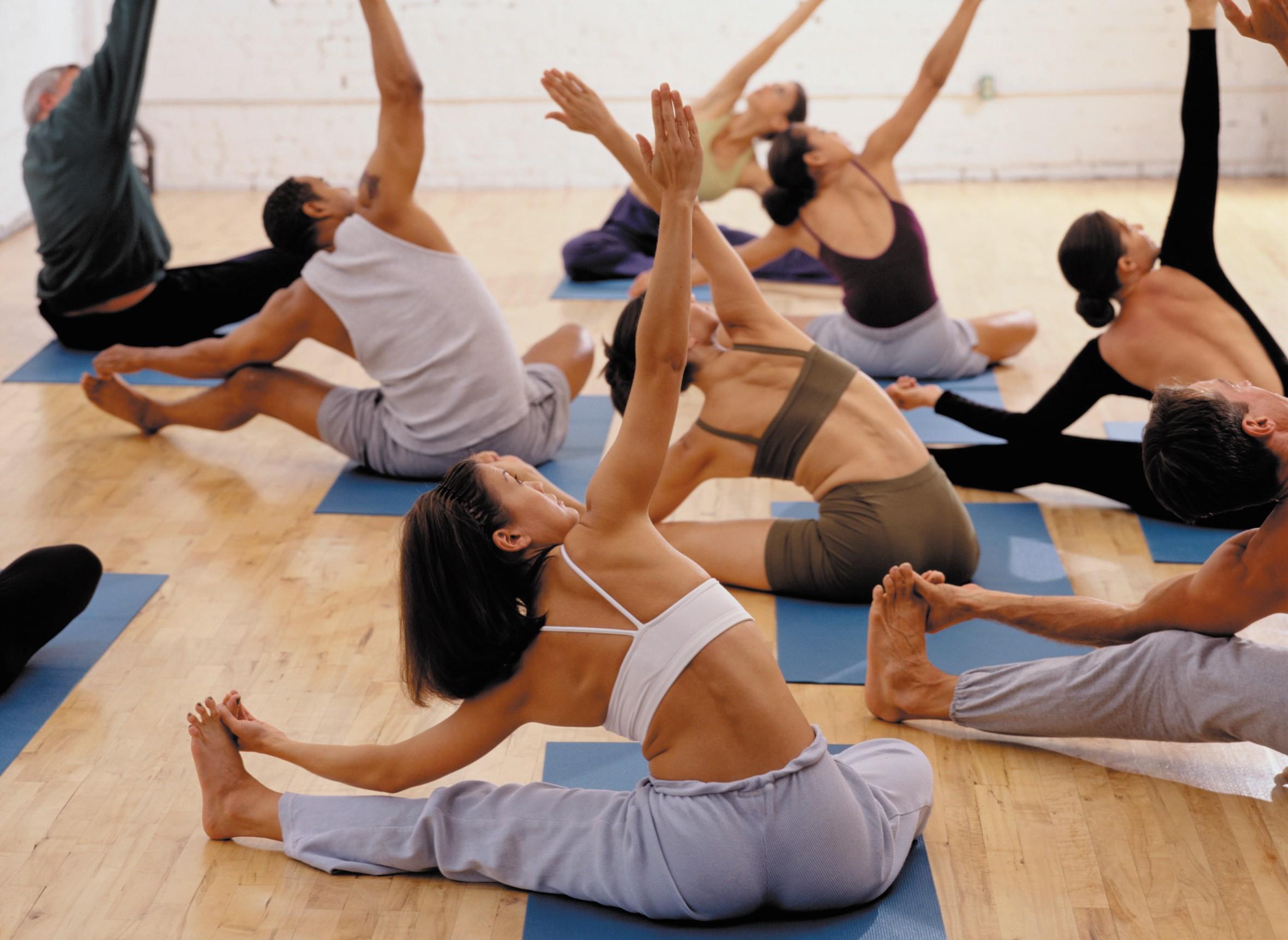 Comments from students:
I had debated for years about taking a yoga class.  I really wanted to, but was afraid that I would not be able to do it and that the instructor would be critical.  When I finally worked up the courage to take Atma's class, I was so happy!  Atma is such a loving, supportive and caring instructor and kundalini yoga is amazing.  I immediately felt welcome into such a warm environment and the benefits of yoga have been fantastic.  I have an overall sense of well-being, increased flexibility and my body just feels better!  On the weeks I have to miss yoga for some reason, I definitely feel the negative effects.  Kundalini yoga truly is so beneficial to the mind, body and spirit and I cannot imagine a more loving person to help you than Atma!  Sharon M.
Yoga Healing has helped me in so many ways.  My flexibility has increased dramatically since I began attending and I have been able to play my sports virtually injury free since I started yoga.  I have also realized the importance of core strength, something I was not aware of until I started practicing yoga.  It has also introduced me to vegetarian food, which can be very tasty if Atma prepares it!!!  Darrin O.
Kundalini Yoga has helped me in many ways.  Physically I feel more strong, flexible with leaner muscles.  Emotionally I always feel great after the class.  Kundalini Yoga gives me the strength I need and also helps me get rid of any stress.  I definitely love Kundalini Yoga and especially Atma the blessed instructor.  Carmen E.
Going to Atma's kundalini yoga class is always time and money well spent.  Always a loving experience.  Kenna J.
Kundalini Yoga has been a wonderful addition to my life.  It becomes addictive!  The physical and mental benefits are undeniable...I have noticed a great increase in strength and flexibility, while also experiencing a "centeredness" that is very soothing for the soul.  It really is a mind and body altering practice. I feel much healthier both physically and emotionally since my practice began.  One of the most beautiful things about Atma's teaching is that she is so encouraging and accepting.  The idea of accepting your body and its abilities where they are at that moment is very liberating; never is there any feeling of intimidation or any negativity during class.  The energy that is generated during class through the yoga, the music, and now the Tibetan bowl vibrations at the end of class is so nurturing and invigorating!  Friday is my favorite day, thanks to Atma's Kundalini Yoga class!  Barbara G.
Drop-In 2 for 1 Special Kundalini Yoga + Pampering Session!
November 3, 10, 17 and December 1, 8, 15 from 9am to 8:10:45am
Check out the Yoga Healing Facebook Page: 
https://www.facebook.com/Yoga-Healing-186468101423518/
Events Page:
https://www.facebook.com/186468101423518/photos/gm.1205991032836480/1711805258889787/?type=3&theater 
Friday mornings 9:00 am - 10:15 am
Ongoing class
No class November 24 Thanksgiving Holidays
No class October 6 Yogi Ji's Remembrance dinner prep from 10am-12:30pm served @ TYC 7pm
Yoga Healing

38207 Calle Cipres, Murrieta 92562


951.696.9063 ext. 105
Single Yoga Class $15
10 Class Pass $135 (FREE class pass after completion of 10 class pass within 6 months of purchase)
8 Class Pass $116  
6 Class Pass $88
4 Class Pass $59
Open Walk-In Classes - Simply show up to scheduled classes (see calendar for yoga class schedule)