I fixed this for breakfast for our family on my husband's b-day today.
It was so yummy! Both my sons and my husband raved about this
breakfast. I am planning on doing again tomorrow.
4 servings
4 English muffins or 8 slices of bread (whole wheat or spelt is
healthier than white)
2 large potatoes sliced 1/4 inch
2 T olive oil
salt, pepper and paprika
4 Morningstar sausage patties
4 slices of sharp cheddar or if you are vegan you can leave this out or use a non-dairy cheese
1 T butter or Earth Balance Spread
Slice your potatoes so you get the biggest slices in diameter possible,
put in a plastic bag, sprinkle in oil and salt, pepper & paprika. Put
them in for grill, under your broiler or on your frying pan and cook
until tender.
Toast your English muffins or bread and butter or Earth Balance
Heat your sausages in a pan (I like iron skillets) I do not use oil for
heating the sausages. They are done when they are heated all the way through.
Optional: Put a flat whole green chili between the potato slices and the sausage.
When potatoes are done, sausage is hot and toast is buttered, place a
large potato slice, then a slice of cheese on top then another potato
slice and a little more cheese or non-dairy version of cheese and then the sausage. Then put ketsup,
hot sauce and mustard if you like. Enjoy.

I went crazy with the potatoes and made these monstrous ones.  Pretty easy to squish down so you could get your mouth around.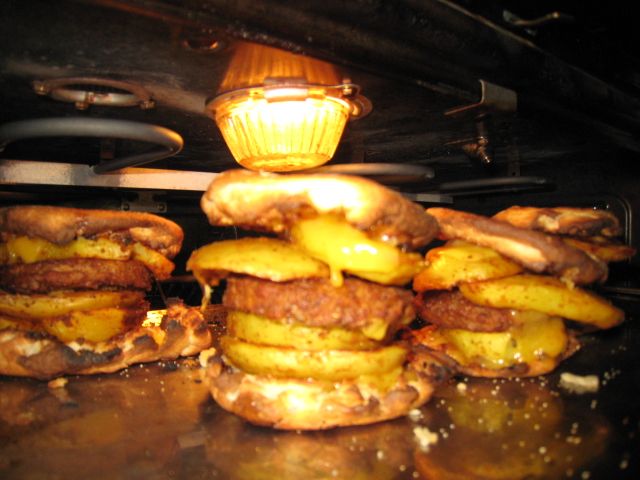 a