The crust is delicate, light and a bit more chewy than flaky, but is delicious, healthy and will melt in your mouth.
 For Oat Coconut Nut Crust:
1/2 cup unsweetened fine coconut flakes
1/2 cup raw pecans, walnuts, or almonds
3/4 cup  quick cooking oats
1/2 t salt
2 Tablespoons honey (warmed)
1-2 Tablespoons ghee (clarified butter) or vegetable oil
Directions:
Preheat oven to 350 degrees.  Put coconut flakes, nuts, oats, salt into food processor and process until mixture is crumbled.  Slowly add warmed honey and ghee or vegetable oil until mixture starts to stick together slightly, but is still slightly crumbly.  Spray your pie pan with a non-stick spray.  Pour out the sticky crumbled mixture into the pie pan.  Oil the tips of your fingers w/ghee or the back of a spoon and work the mixture onto inside of the pie pan bringing it up to the edge.  Or use a piece of wax paper to press the mixture into the pie pan up to the edge.  Bake in 350 degree oven for 12 minutes.
For Pudding Filling
1/2 cup maple syrup
3 Tablespoons unsweetened organic cocoa powder
1/4 cup cornstarch
1/8 teaspoon salt
2 3/4 cup milk or unsweetened soy milk
1-2 Tablespoons ghee (clarified butter) or Earth Balance organic buttery spread
1 teaspoon vanilla extract
3 small organic bananas sliced
Directions:
In a saucepan, stir together maple syrup, cocoa, cornstarch and salt.  Place over medium heat, and stir in milk.  Bring to a boil and cook, stirring constantly, until mixture thickens enough to coat the back of the spoon.  Remove from heat and stir in ghee or Earth Balance buttery spread and vanilla.  Place sliced bananas into the bottom of the baked pie crust, save 6 slices of banana.  Pour the filling over the banana slices.  Top with the six additional slices of banana in the middle of the pie in a half stacked circle.  Let cool briefly, and serve warm, or chill in refrigerator until serving.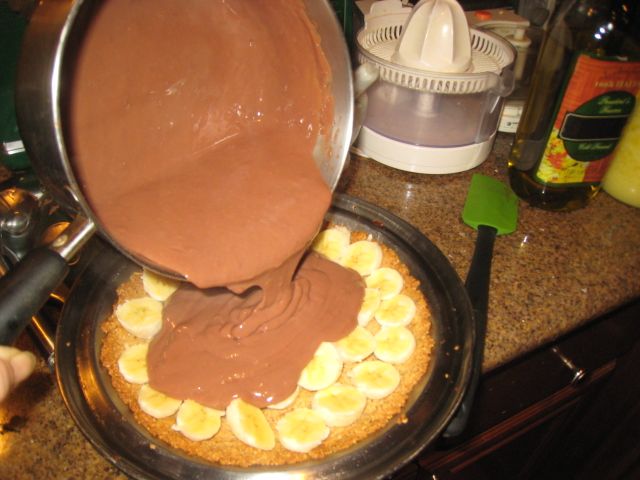 a