Serves 8-16
4 large, 8 medium or 10 small russet baking potatoes
1/3 cup olive oil or ghee
3 onions, chopped
1/3 cup ginger, minced
1 bulb garlic, minced
1 t salt
1 t black pepper
1 1/2 t turmeric
1 t crushed red chiles or cayenne (more or less)
8 whole cloves or 1/4 t clove powder
seedsof 3 cardomon pods or 1/4 t cardomon powder
1/2 t ground cinnamon
1/4 cup tamari sauce
1/2 pint cottage cheese
4-10 slices cheese, cut each one in half (one half slice for each potato half).
1 bell pepper, finely diced
1/2 cup pineapple, chopped & drained
Bake potatoes at 425 degrees until nice and soft on the inside, and crispy on the outside (about 1 hour).  Meanwhile, heat oil or ghee in skillet and add onions, ginger, garlic and the one teaspoon of salt.  Saute until onion mixture until well done, about 20-30 minutes.  Add the spices and stir well.  If it is sticking, add a little water.  Cook until browned, about 5-10 more minutes.  Add tamari sauce.  Cut baked potatoes in half lengthwise.  In large bowl, scoop out insides of potatoes (save the potato shells and set aside).  Combine the potatoes with onion mixture.  Add the cottage cheese and mash all together with a potato smasher until mixture is integrated.  Refill potato shells forming mounds on top and put all together on a cookie sheet or large baking dish.  Cover with 1/2 slice of cheese.
Bake in preheated 350 degrees oven for 30 minutes and then place under broiler until cheese is bubbly.  Garnish with bell peppers and pineapple.
Recipe derived from the Conscious Cookery Cookbook by Siri Ved Kaur Khalsa with changes by Atma K. Khalsa  1/9/2011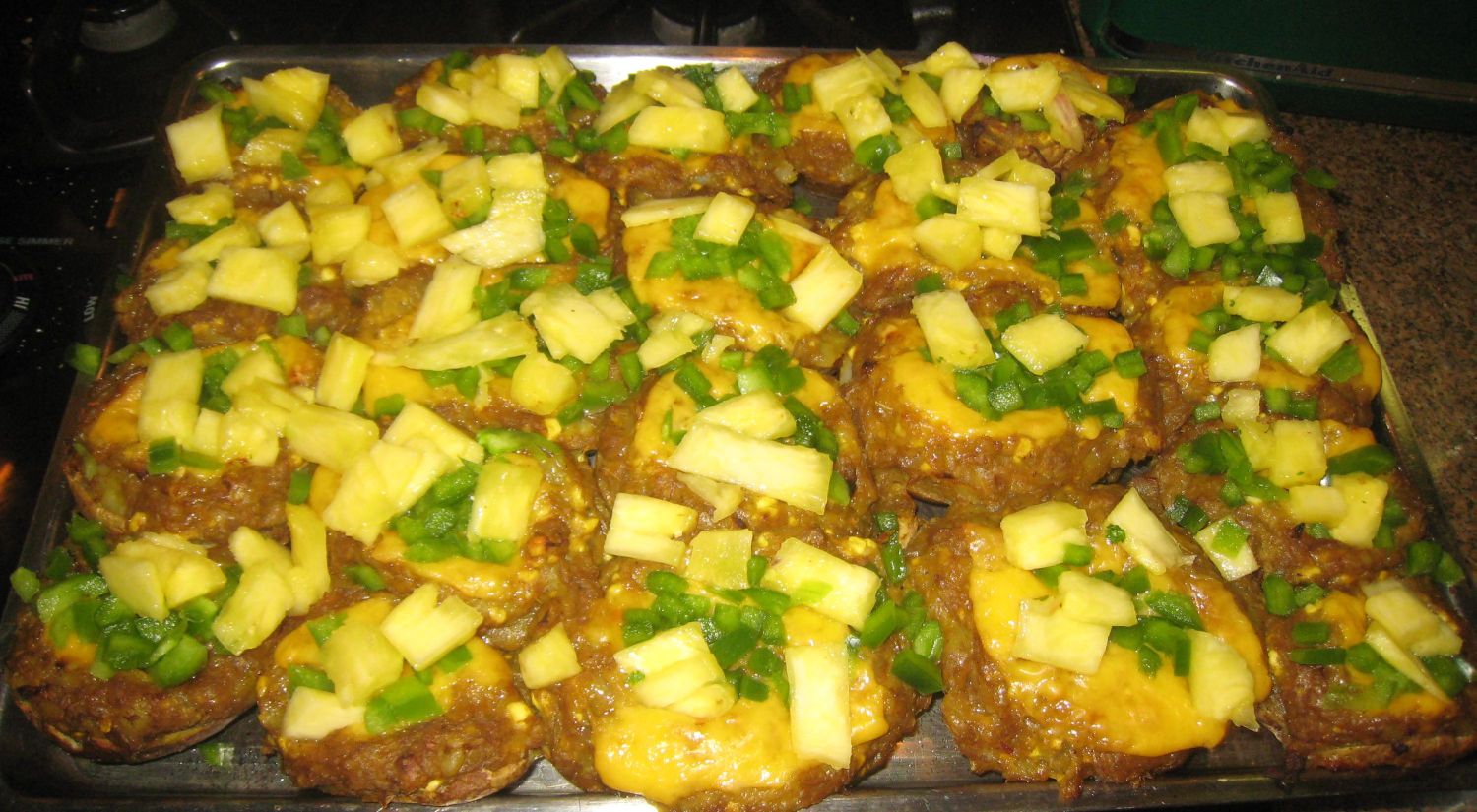 a