10-12 servings
1 cup mung beans
9 cups water
1 T sweet basil
2 bay leaves
4-6 cups chopped assorted vegetables (carrots, celery, zucchini)
1 cup basmati rice
Masala Ingredients:
1/3 cup ghee or oil
2 onions, chopped
1/3 cup minced gingeroot
8-10 cloves garlic minced
1 heaping t turmeric
1/2 t pepper
1 heaping t garam masala
1 t crushed red chiles (more or less to taste
seeds of 5 cardamon pods
salt or tamari sauce or Braggs to taste
Sort through your beans in a bowl (I like to use a frisbee) and pick out any pebbles.  Wash your mung beans in a strainer.  Bring the water, washed mung beans, basil, bay leaves to boil.  Boil over medium-high flame for 30-40 minutes until the beans are soft.  While waiting for mung beans to get done, heat 1/3 cup cup oil in large frying pan.  Add onions, ginger and garlic and saute over medium-high flame until browning.  Add spices, but not salt or tamari or Braggs.  If the mixture sticks to the pan, add 1/4 cup of water and stir.  When nicely well done, combine masala mixture  with cooking mung beans.  Prepare your vegetables and place in a separate bowl.  Wash your rice thoroughly.  Add your vegetables and rice at the same time to the cooking mung beans and masala in your pot.  Bring back to a boil on a medium-high flame.  As soon as it boils, turn down, cover and stir every 5-7 minutes - you are cooking the rice and veggies at this point so keep it covered in between stirs.  Cook for 20-25 more minutes in total.  Add your tamari, Braggs or salt to taste. 
Serve with yogurt, or with cheese melted over top.  This dish is "pre-digested," and is excellent for the sick, the elderly and young children (in these cases, make it less spicy).
Recipe from the Conscious Cookery by Siri Ved Kaur Khalsa (revised by Atma Kaur Khalsa 12-18-10  Ingredients unchanged except for optional Braggs and I changed the recipe from 1/2 cup ghee or oil to 1/3 cup of ghee or oil for sauteing the onion, ginger, garlic & spice mixture, remember to add a little water if the mixture sticks to the pan).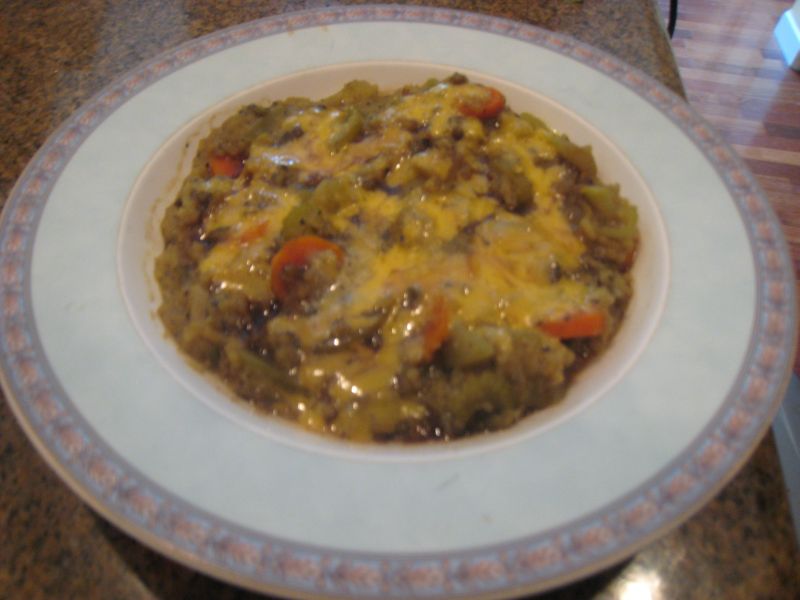 Above is a bowl of Mung Beans & Rice with lots of great veggies, a bit of ghee drizzled over, Braggs sprinkled and cheddar broiled on top.  I used to serve Michael Jackson at the Golden Temple Restaurant in Los Angeles and he loved this dish.  This is good to serve with a small salad with tahini dressing and a little plain yogurt on the side if desired.